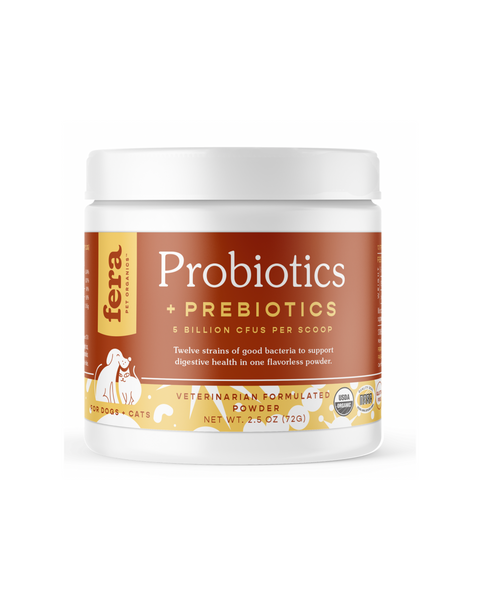 FERA PET ORGANICS
Organic Probiotics + Prebiotics
Probiotics are beneficial microorganismsthat help control the balance of the digestive system, aid in reducing loose stool due to environmental or dietary changes, and support the immune system and skin health.
Dr. Dulake custom-picked 12 living strains with powerful dosing of 5 billion CFUs to actually make a positive difference in your pet's digestive health. Our probiotics also include organic prebiotics that supports normal microbial balance and the growth of beneficial bacteria in your pet's intestines.
Best of all, this flavorless powder easily mixes into your pet's food. It's easy and effective!
Gut health: Promotes healthy intestinal tract, digestion, and normal stools. 
Immunity: 12 powerful strains of good bacteria promote a healthy microbiome and immune system. 
Skin + Coat: Supports skin health and may reduce itching and hot spots from allergies. 
Energy: Increases gut flora for an energy boost