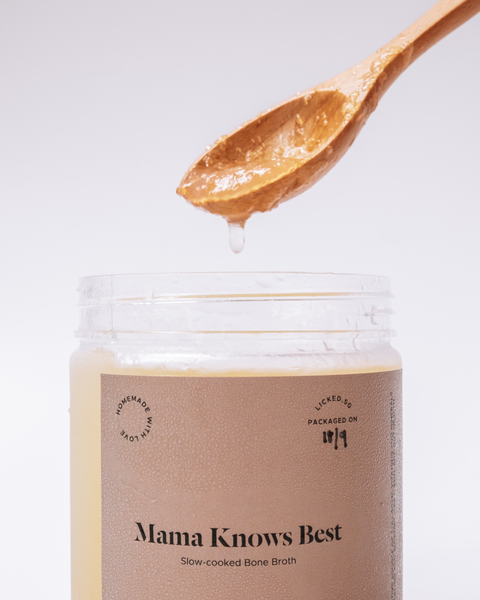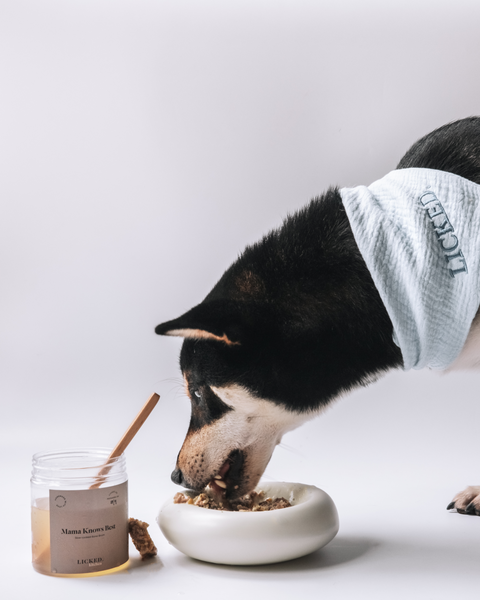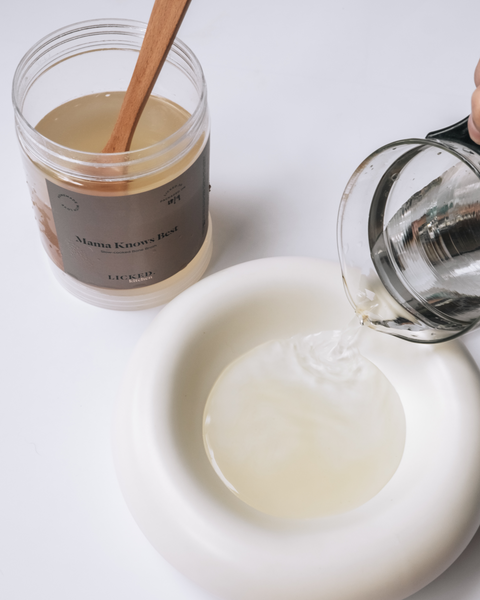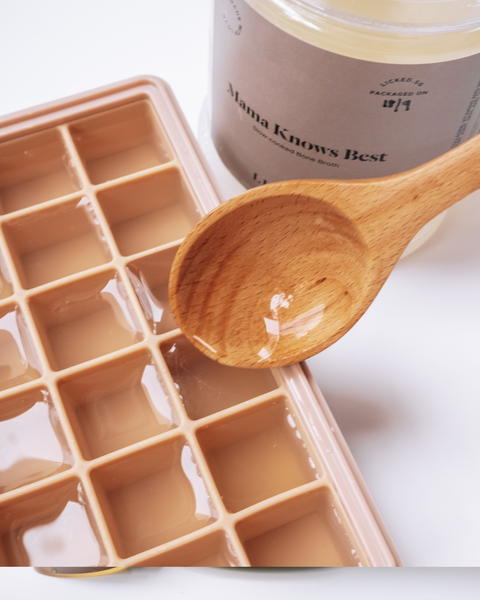 licked.sg
Bone Broth
WHY SHOULD I FEED MY FUR KID BONE BROTH? 
In the process of making bone broth, collagen and cartilage are boiled down, releasing anti-inflammatory nutrients like chondroitin sulfate, glucosamine, and other compounds that help joints stay strong. Additionally, bone broth contains amino acids like glycine, proline, and arginine that all have whole-body anti-inflammatory effects. Finally, the abundance of collagen in bone broth helps structure and strengthen bones.  
THE BENEFITS OF BONE BROTH FOR DOGS CAN INCLUDE:
Joint rejuvenation 

Healthy gut 

Digestion support 

Enhanced hydration 

Skin & coat health 

Increased appetite (due to a healthy, optimally-functioning gut) 
Just like humans, when dogs experience inflammation and metabolic stress, their body is operating at a less-than-ideal state. To combat this, you can feed your pup anti-inflammatory, healthy-gut promoting, nutrient-dense whole foods to help them thrive. 

Ingredients:
Beef: Beef Marrow Bones, Organic Tumeric, Carrot, Organic Apple Cider Vinegar, Filtered Water
Chicken: Chicken Feet, Wolfberry, Celery, Organic Apple Cider Vinegar, Filtered Water
Duck: Duck Feet, Organic Apple Cider Vinegar, Filtered Water
Pork: Pork Marrow Bones, Parsley, Carrot, Organic Apple Cider Vinegar, Filtered Water
Salmon: Salmon Head, Salmon Bones, Kombu, Bonito, Filtered Water
Turkey Chicken: Turkey Carcass, Chicken Feet, Rosemary, Cranberry, Organic Apple Cider Vinegar, Filtered Water
Lamb: Lamb Bones, Carrot, Thyme, Organic Apple Cider Vinegar, Filtered Water
Feeding Guide
As with feeding new food to your dog, we recommend trying a small amount of bone broth first to see how your dog reacts to the dosage. From here you can slowly increase the amount as they tolerate it.
10kg dogs and less: 1 tablespoon a day
10kg - 20kg: 2 tablespoons a day
20kg and above: 2-4 tablespoons a day 
Serving methods
1. Serve AS-IS 
Giving your pet bone broth the first time this way might be ideal. All you have to do is take the bone broth from the freezer and place it in the fridge until defrosted.  
Once defrosted, scoop our a table spoon of broth into their bowl and happy, healthy, hydrated doggo or cat awaits.  
2. Serve as a MEAL TOPPER
Adding a bit of bone broth on top of your pet's regular meal never hurts!  
Once the broth is defrosted, pour a bit into your pet's bowl during mealtime. Adding the broth to kibble or raw food will give them a BOOST of gut and joint support.  
3. GET CREATIVE! BROTH CUBES! 

A fun way to serve bone broth is by re-freezing defrosted broth as "broth cubes" for your pup or cat!  
A broth cube can be a good way to cool your pet down, keep them hydrated, and give them some good mental stimulation of chompin' on an ice cube.  
To make broth cubes,
1) Defrost the broth, 2) Pour broth into an ice tray, 3) Re-freeze and serve! 
4. Heat it up and serve 
Perfect for those with an upset tummy who refuses to consume anything. Scoop out a tablespoon of broth, add some warm water and it'll be the perfect way to help sooth your pups tummy. 
Best consumed within 6 months in the freezer or 10 days in the fridge.