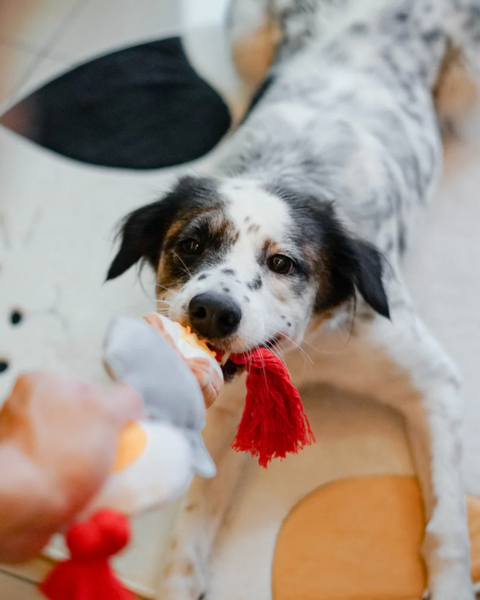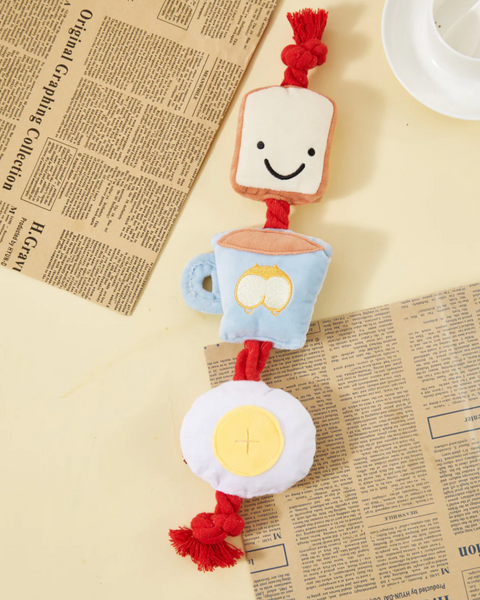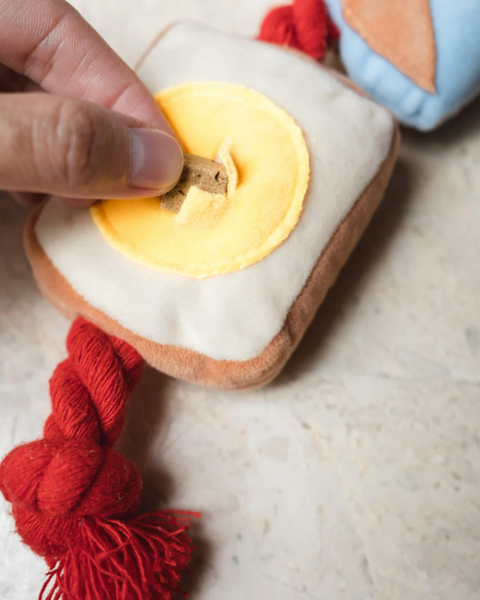 WOOFY GOOFY
Breakfast With Me Tug Plush
Woofy Goofy Exclusive In-House Design
The perfect combination of fun, comfort, and functionality! Designed with the cutest plush bread, coffee, and egg toys attached to it, this toy is guaranteed to provide hours of entertainment for your furry friend.
With a durable rope handle and a sturdy plush construction, this toy is ideal for interactive playtime with your dog. Plus, it features a squeaker to grab your pet's attention and keep them engaged in the game.
But that's not all - this toy also comes with a convenient pocket that allows you to hide your dog's favorite treats inside, making it an excellent tool for training and positive reinforcement. You can reward your pup for playing nicely and make
their playtime even more enjoyable.
So whether you want to keep your dog entertained while you're busy, reward them for good behavior, or just snuggle up with them and their new favorite toy, our Dog Tug Toy with plush bread, coffee, and egg toys is the perfect choice for you and your furry 
friend.
Features:
Squeaker in bread

Back pocket at the egg plush you to hide treats in it.
Measurement: 40cm × 7cm
Benefit of Snuffle Toy:
Encourages dogs natural instinct for sniffing and foraging

Great as a calming activity for stressed or anxious dogs

Useful as a distraction activity for dogs who suffer separation anxiety

Slow down pets that gobble down on their food.

Low impact activity for dogs with limited mobility