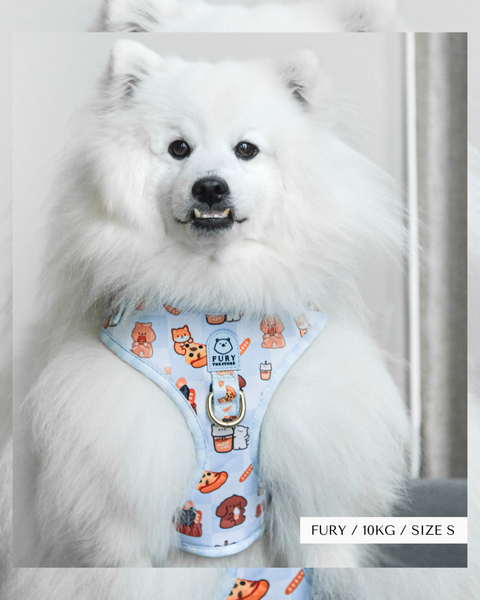 FURY THE STORE
FURY&FRIENDS IN NYC HARNESS
FURY&FRIENDS IN NYC
Hand drawn doodles of Fury & Friends snacking in NYC featuring burgers, pizza, soft serve, boba and baguettes! 
Specifications
Our printed harness is made from neoprene padding and breathable mesh lining. 
Fully adjustable at the neck and chest and available in five sizes (XXS to L).
Features a front D-ring attachment designed to assist with loose lead training or to display name tag.
Assembled with gold hardware.

Size Guide
SIZE XXS | NECK: 20-29CM, CHEST: 28-38CM.
SIZE XS | NECK: 29-36CM, CHEST: 36-48CM.
SIZE S | NECK: 35-44CM, CHEST: 41-54CM.
SIZE M | NECK: 39-51CM, CHEST: 46-61CM.
SIZE L | NECK: 42-56CM, CHEST 57-83CM.

Picture shows the FURY&FRIENDS HARNESS IN SIZE S. 
Important: This collection features a larger print, so the smaller sizes XXS and XS will have lesser prints on them. As a result, the smaller sizes are available at a discounted rate. Larger sizes will have all or most dogs on them!