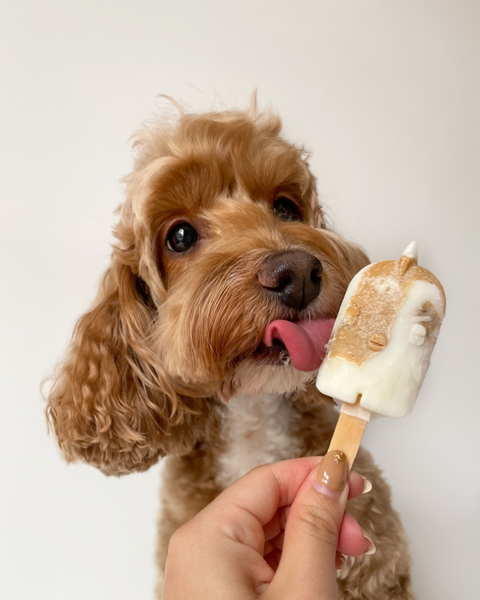 licked.sg
Nutty Nana
Peanut butter is a nutritionally well-rounded dog treat, providing nutrients and fiber as well as protein and healthy fats. It's also a good source of folic acid for cell growth and magnesium to assist cells metabolize B complex vitamins.
Bananas provide excellent sources of essential vitamins and nutrients like potassium, magnesium, Vitamin C, Vitamin B6, and Biotin that are important for your dog's overall health. Bananas are also high in fiber, and low in fat and cholesterol.
Goat's milk is loaded with probiotics that help to support digestion by increasing the population of healthy bacteria in your dog's digestive tract. Supporting your dog's digestion helps to improve nutrient absorption, boosts the immune system, and aids in filtering out toxins. In addition, goat's milk also provides:
Moisture - vital to all systems in your dog's body
Calcium - component of bone, strengthens muscle and supports blood clotting
B vitamins - support a healthy metabolism, digestion, and hormone regulation
Vitamin A - maintains eye health and cell function
Protein - provides amino acids needed to run the whole body
Unless your dog is lactose intolerant, plain Greek yogurt is better and safer for dogs than other types of yogurt. It contains more concentrated levels of probiotics (live cultures of bacteria), which do good things for a dog's gut. Greek yogurt is particularly helpful for dogs taking antibiotics, which kill off some of the good bacteria in a dog's gut. The probiotics in Greek yogurt also fight yeast infections, which can help dogs with recurring ear or skin infections.
Coconut is full of electrolytes that can help keep your dog hydrated and even give them a boost of energy as it's full of nutrients like potassium, calcium and vitamin C. It also helps reduce inflammation, strengthens the immune system and improves skin and coat.

Ingredient List: 
Peanut Butter, Banana, Coconut, Goats Milk, Greek Yoghurt
Edible sticks : (JR Pet) 100% pure meat